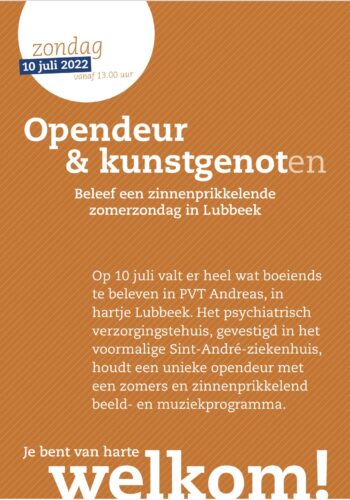 A special EXPO @ PVT Andreas, in the context of a complete revamp/reconstruction of the Psychiatric Care Centre Andreas located in a convent at Lubbeek (Belgium) and where about 38 artists will exhibit and/or sell artwork. A flyer can be found here containing more detailed information about the participating artists, location, food & drinks, musicians participating…
One of the special things about the EXPO @ PVT Andreas is that Art work from the residents will be exposed amid Art work from the artists visting.
I will be exhibiting some Portraits as well as abstract work and…. YES….
The pop-up studio will again be present! This means that again there will be an opportunity to have your "Artistic Portrait" made by the artist and become Art yourselves… at a democratic price!
The pricing depends on the way you wish to have it produced (simple print on Fine Art paper, print on di-bond, framed print, etc…). The "Art Portrait" shoots will be done throughout the day, at the Chapel. For an example of what you can expect…
Other (more abstract) Art work will be exposed just next to the Chapel. Directions for all exhibited Art will be available on site.
Hope to meet you all there soon.